December 13, 2018 (Nashville, Tenn.) – Curtis Braly has agreed to sign on for the annual Christmas 4 Kids event to help local underprivileged children this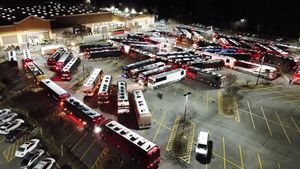 holiday season just as he has done the last 3 years. 
Braly along with other artists including Hunter Hayes, Kimberly Schlapman from Little Big Town, 3 Doors Down, Lee Greenwood, Zach Stone and more will participate in the annual Christmas 4 Kids organization's tour bus show at the Hendersonville Wal-Mart on Monday, December 17th from 5-9 PM. "Christmas 4 Kids is an amazing organization that I have been honored to be a part of the last few years. Seeing the joy in these kid's faces year after year makes my Christmas!" said Braly. 
From 5 p.m. to 9 p.m. Dec. 17th, fans will get an opportunity to meet the Stars and gather on their parked tour buses.  Participating artists get to meet fans and give them an inside look at a country artist's home on the road which raises money to fund holiday shopping sprees at Wal-Mart for more than 400 local school children. 
The next day, the tour buses will pick the children up from school and take them to dinner and a party hosted by Santa Claus. The day will end with the Wal-Mart shopping spree, in which each child will receive a new coat and $150 spending money. 
For more information on Christmas 4 Kids, visit www.christmas4kids.org. 
For more information on Curtis, visit www.CurtisBraly.com. You can also check out Braly's take on the popular Christmas song, "Mary Did You Know" at CurtisBraly.com/Christmas. 
Also available on iTunes, GooglePlay, Spotify, Pandora and more!