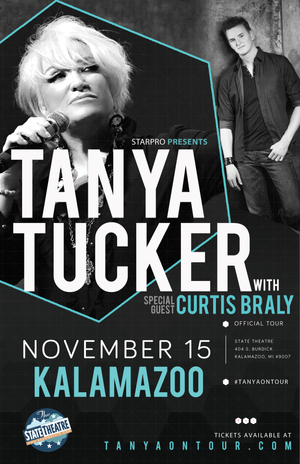 Country music icon Tanya Tucker with powerhouse opening act Curtis Braly are bringing their talents to Kalamazoo, Mich. to perform at Kalamazoo State Theatre Thursday, November 15. This crowd pleasing performance will donate all proceeds to The Ruby Foundation, an organization committed to helping today's youth cope with the struggles of bullying. Pre-sale will begin September 4 and regular sale will begin September 7. For an exclusive opportunity to purchase tickets before they go on sale to the general public, subscribe to our email list here. 
"I know a thing or two about being the target of mean-spirited people! So anything I can do to help kids who are going through bullying is close to my heart. And I always love coming up to the great state of Michigan and seeing all my fans!" Tanya Tucker shared. 
"It's always an honor to be in the presence of an icon like Ms. Tucker," says Curtis. "We always have a great time, and you never know what might happen!" 
Be sure to visit tanyatucker.com.
About Tanya Tucker: 
In 1974, Rolling Stone ran a cover story on Tanya Tucker with the headline that said "You're Gonna Hear From Me." Truer words have never been spoken. The country music icon's sultry voice and vivacious stage presence makes her one of the most admired and respected female vocalists in the country music genre. Tanya's reign includes 23 Top 40 albums and a string of 56 Top 40 singles, 10 of which reached the No. 1 spot on the Billboard charts. Along the way, she has provided some of the biggest country music hits of each decade, including, "Delta Dawn," "Soon," "Two Sparrows in a Hurricane," "It's a Little Too Late," "Trouble" and "Texas (When I Die)," just to name a few. Tucker is also the recipient of numerous awards, including two CMAs, two ACMs and three CMT awards. In August 2016, the Academy of Country Music honored Tucker with the Cliffie Stone Pioneer Award during the 10th Annual ACM Honors™. All-inclusive sales of singles, albums, hits collections and digital downloads have topped 25 million records worldwide. For more information, visit tanyatucker.com. 
About Curtis Braly: 
Country music powerhouse and Humble,Texas native Curtis Braly is a jack of all trades. With experience in theatre, choir, radio, criminal justice, emergency medical services and aviation, he found his true calling as an entertainer & true showman. His new single "Song You Can Drink A Beer To (REMIX)" released to Spotify July 6th with an accompanied music video that premiered on The Country Network. Performing and touring with fellow country artists such as Dolly Parton, Tanya Tucker, Daryl Singletary and Johnny Rodriguez, Curtis draws from these performers' abilities to capture an audience—to bring music to life as a must-hear storyteller. With his explosive stage presence, Braly "delivers" an intimate connection with believable emotion and a charging energy allowing his story to unfold right before your ears.  While Curtis is devoted to his music career, it is also his mission to give back. Braly takes pride in volunteering his piloting skills and personal aircraft to organizations like Pilots N Paws and Angel Flight. Curtis also volunteers, each year, to Christmas 4 Kids and plans to launch The Ruby Foundation, his non-profit that works with the youth of today to end bullying by the end of the year. Curtis' music and sincere philanthropy caters to the seasoned music lover as well as the new generation of fans and listeners who have a hankering for pop, jazz, and rock influences.