Nashville recording artist asks pressing questions to the world on the United Nations inaugural observance of "Living Together in Peace" day 
Recently Nashville recording artist Curtis Braly addressed the world via livestream on the United Nation's inaugural observance of "International Day of Living Together in Peace". Braly took a wide and deep dive into life's pressing questions that would afford one to live together in peace. 
As a society there is agreement that something must change for the violence continues in our schools, communities, cities and around the world. What is the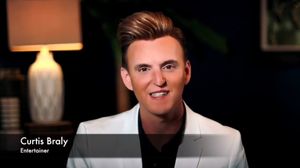 solution? And is there more than one solution? Maybe it is all of us together, taking action, praying prayers or visualizing a better way, a better day that creates the change so the world might be able to truly "Live Together in Peace". 
"I turned my world upside down searching for the answers to two questions: What does the world need and How can I help," Braly said. "I wanted to enlist others into thinking about these questions also. For me, I knew I would have to broaden my worldview. Living together in peace is possible, but first we need to create that shift in our own minds." 
Curtis Braly began deep introspection about how positive change can happen in the world. 
"I initially thought it may be tough to come up with a list of how to create impactful change, but before I knew it, I had a whole page full of wishes," Braly said. "The cool thing is that these were not just wishes for me, but for humanity." 
Braly's address to the world encompassed a list of touchstones key to peaceful living like developing compassion, tolerance, understanding and gave specifics such as: more understanding and less blaming; more compassion and less shaming; and more love and less hating. 
"As I am turning a corner in my own career and becoming more authentic, I felt it important to develop my own credo of what I thought was important in life. As I did, I realized this credo is good for the world. I felt compelled to get this word out," Braly said. 
Braly's address can be found online at www.facebook.com/curtisbralymusic.
About Curtis: 
Music powerhouse and Texas native Curtis Braly is a jack of all trades. With experience in theatre, choir, radio, criminal justice, emergency medical services and aviation, he found his true calling as an entertainer & true showman. 
Performing and touring with fellow artists such as Dolly Parton, Tanya Tucker, Daryl Singletary and Johnny Rodriguez, Curtis draws from these performers' abilities to capture an audience—to bring music to life as a must-hear storyteller. With his explosive stage presence, Braly "delivers" an intimate connection with believable emotion and a charging energy allowing his story to unfold right before your ears.  While Curtis is devoted to his music career, it is also his mission to give back. Braly takes pride in volunteering his piloting skills and personal aircraft to organizations like Pilots N Paws and Angel Flight. Curtis also volunteers, each year, to Christmas 4 Kids and has recently launched The Ruby Foundation, his non-profit that works with the youth of today to end bullying. Curtis' music and sincere philanthropy caters to the seasoned music lover as well as the new generation of fans and listeners who have a hankering for pop, jazz, and rock influences.
Get Social with Curtis: