Invited guests preview "One Day" performance debut on the Cruise with Curtis high-sea adventure
Guests of Nashville recording artist, Curtis Braly, were in for a special screening of Braly's impending new release song, "One Day", aboard Carnival Cruise Lines as they gathered for the second annual Cruise with Curtis event.  
Previously one could buy tickets to any number of Curtis Braly's performances as he toured with county music legends, Tanya Tucker and surprise appearance with Dolly Parton. However the Cruise with Curtis performance took on a very different tone, vibe and message than fans had before experienced. 
"There is so much more to say with my music that I didn't think I could achieve as I had been performing," Braly said. "By limiting myself to a restricted platform, I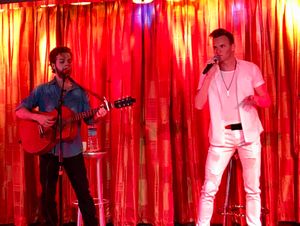 felt that I was limiting my audience and neglecting others who may need to hear my message. So I kicked up the vibe, added in some dynamic choreography and created a message that had an inspirational quality to it. The fans loved it, thankfully!" 
One Cruise guest had much more to say about this than what Braly counted on. 
"Guests who attended Cruise with Curtis are a very special group. They aren't just cruise-goers, they are fans and I consider them to be my extended family," Braly said. "When I realized a certain guest was nowhere to be found I asked about her only to learn she had suffered third degree burns on her feet and had to stay in her cabin to heal." 
Learning the plight of fan Lynn Forey, Curtis Braly decided if she couldn't come to the show, the show would go to her. Forey was very surprised when Braly appeared at her door and serenaded her in her cabin. 
"It was a magical moment to be sure," Braly said. "I wanted her to know that she was important to all of us, the whole group. It was fun. But really it was so natural. We were a family for several days and supported and encouraged each other!" 
Braly's soon to be released song, "One Day", is just as encouraging as his fan-base. Braly is releasing not just a new song, but is developing a new culture with his music. 
"I wanted to be more relevant in the world and basically to speak to people where they are in life," Braly said. "Most singer / songwriters want to have people find their way into a singer's song. I want to write and record music that fits into my audiences' life. There's a big difference in doing so." 
As for Forey, she has healed nicely and has come away from the Cruise with fond memories. 
"Curtis is my new favorite person and he deserves the best," Forey said. "He made me cry by sending me roses, serenading me and making me feel so special while on the cruise. With the sunburn I had to keep my feet elevated so I did not get to enjoy the water. What could have been the worst experience of my life was made so much better. Curtis is a very special person." 
Fans have already purchased tickets for Cruise with Curtis 2020 and with the trajectory of the "One Day" launch song, fans might be smart to get on board with their own ticket purchases. For more info on Cruise with Curtis 2020 and latest song releases, go to www.CurtisBraly.com. 
More info on Cruise with Curtis 
To stay up to date on the latest news surrounding Curtis, text the keyword NEWS to (615) 819-5557