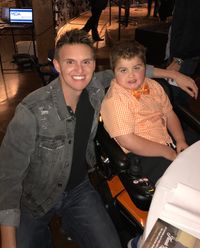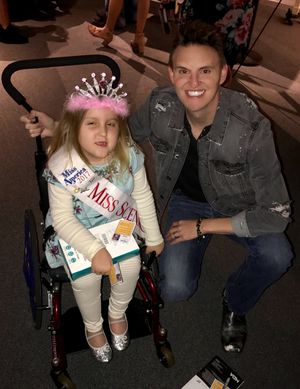 Nashville, Tenn. (October 23, 2017) – Last week, entertainer & music crooner Curtis Braly participated in the Muscular Dystrophy Association's 3rd Annual Nashville Muscle Team Gala at the Musicians Hall of Fame and Museum. MDA's Muscle Team Gala is a high energy, sports themed event that pairs local and national athletes, celebrities, musicians and military personnel with MDA's Most Valuable Players (MVPs) – local children and adults living with muscle disease. 
During the event, children were given the opportunity to play musical instruments and become superstars for the day. The event raised over $205,000 while Braly's personal donation raised $1,000 in the silent auction and was won by 2017 Tennessee Titans Team Captain, Tim Shaw. Proceeds from the event help fuel progress in MDA's mission to save and improve the lives of kids and adults with muscular dystrophy, ALS and other diseases that take away strength and mobility.  
Braly will be releasing his rendition of the Christmas classic, "Mary Did You Know?" featuring 4 Runner on November 3. He will also be producing "Flying High Christmas Spectacular" benefiting Christmas 4 Kids in Nashville on December 9. Tickets can be purchased here: https://www.eventbrite.com/e/flying-high-christmas-dinner-and-concert-benefiting-christmas-4-kids-tickets-38599076878?aff=Agency33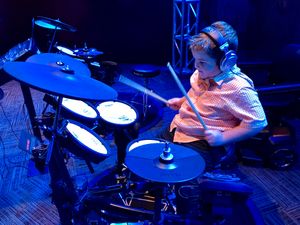 About Curtis Braly 

Braly recently recorded his third album, produced by Kent Wells, titled You Matter. It provides a deep look into Braly's childhood, where the Humble, Texas native experienced bullying throughout high school. "That was a difficult time in my life—mere words can leave lifetime scars," mentions Braly. "But, it was an experience that made me stronger and I wouldn't change it for anything.  It taught me how important it was to be kind." The 10-song album features tracks such as "Love You Down," "Hate Me," and "Simple's Not Easy" that touch on love, loneliness, fear, break-ups and of course, beer.  A "labor of love," the compilation is a reflection of personal and artistic evolution and was created with purposeful intent to inspire.  
For more information, visit https://www.curtisbraly.com