Country music artist and powerhouse vocalist Curtis Braly is bringing his talents to Cypress, TX to perform at the Lakehouse at Towne Lake Friday, December 20. This crowd pleasing Christmas performance, sponsored in part by Frontier Title of Cypress, will donate all proceeds to The Ruby Foundation, an organization committed to helping today's youth cope with the struggles of bullying. On top of hearing some of Christmas' greatest hits, the night will offer a pre-show cocktail hour, professional family & friend photo opportunities, silent auction, LIVE auction & much more. 
"I know a thing or two about being the target of mean-spirited people! So anything I can do to help kids who are going through bullying is close to my heart. Kids need to know that we have their back & are here to help them get through the hard times. And the fact that I get to bring this show home to Texas is a bonus!" Curtis Braly shared. 
"I'm looking forward to transforming The Lakehouse at Towne Lake into a Winter Wonderland,"says Curtis. "We will all have a great time and get the opportunity to make a difference in a kid's life. Now, that's the spirit of Christmas!" 
Be sure to visit CurtisBraly.com for tickets.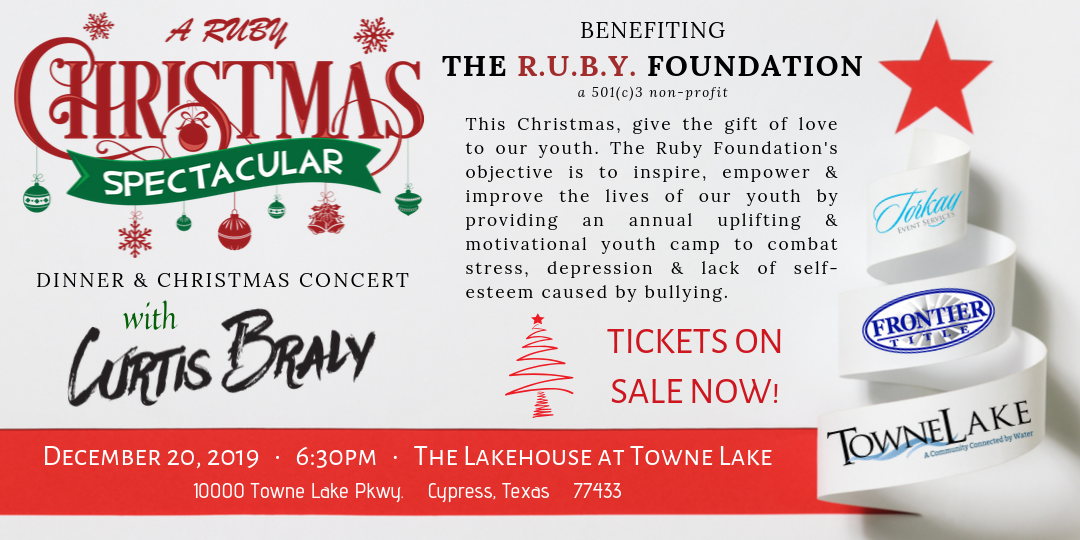 About Curtis Braly: 
Music powerhouse and Texas native Curtis Braly is a jack of all trades. With experience in theatre, radio, law enforcement, emergency medical services and aviation, he found his true calling as an entertainer & true showman. 
Performing and touring with fellow artists such as Dolly Parton, Tanya Tucker, Ty Herndon, Daryl Singletary and Kimberly Caldwell, Curtis draws from these performers' abilities to capture an audience—to bring music to life as a must-hear storyteller. With his explosive stage presence, Braly "delivers" an intimate connection with believable emotion and a charging energy allowing his story to unfold right before your ears.  While Curtis is devoted to his music career, it is also his mission to give back. Braly founded and launched his 501(c)3 non-profit, The R.U.B.Y. Foundation, in 2018 to help teens combat stress, depression & lack of self-esteem caused by bullying. He also takes great pride in volunteering his piloting skills and personal aircraft to organizations like Pilots N Paws and Angel Flight. Curtis also volunteers, each year, to Nashville's Christmas 4 Kids. Curtis' music and sincere philanthropy caters to the seasoned music lover as well as the new generation of fans and listeners who have a hankering for country, pop, jazz, and rock influences.