GO TIME RECORDS 
INTRODUCES BRAND NEW MUSIC  
FROM FLAGSHIP ARTIST CURTIS BRALY 
TITLED "YOU MATTER" 
• First Offering From Nashville Indie Label • 
• Braly Debut Single, "Love You Down," On Radio Now •
NASHVILLE, Tenn. (August 16, 2016) – The Nashville, Tennessee based independent label, Go Time Records (GTR) is pleased to introduce its debut project from flagship artist, Curtis Braly, titled YOU MATTER.*  The CD (available September 9, 2016) showcases the extraordinary production talents of veteran Nashville musician and Grammy nominated producer Kent Wells (who has worked alongside Dolly Parton and has been instrumental in launching the careers of young independent recording artists such as Mary Sarah, Jordan Anderson, Erica Nicole and many more). 

A 10-song compilation, YOU MATTER features tracks (such as "Love You Down," "Hate Me," "Secondhand High" and "Simple's Not Easy") that touch on hopeless love, loneliness, fear, break-ups and beer.  A "labor of love," the entire project reveals both personal and artistic evolution and was created with purposeful intent to inspire.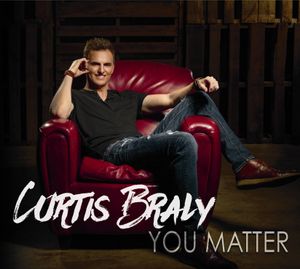 "Kent pushed me to go beyond what I felt were my limits vocally and melodically. We worked hard on the project and I believe we've taken my music to a whole new level," said Curtis Braly. "One of my biggest goals was to 'improve' with every single note that I sang and, with Kent's vision and help, I think we delivered."  
 
The young Texan delivers YOU MATTER with believable emotion and a charging energy to make his stories unfold right before the listeners' ears. His music caters to the new generation of contemporary country music fans who share a hunger for young country, pop and rock.
 
"Working with young artists to cultivate their talents and bring their 'creative' to life is always energizing for me," said Go Time Records label head and music producer Kent Wells. "Working alongside Curtis was a motivational experience for me; he really went 'all-in' to record music that meant something to him.  Curtis Braly is a prime representation of what Go Time Records' mission is—to develop a career artist." 

In addition to the September 9 digital retail release (via major outlets such as Amazon, iTunes, etc.), the label will offer the YOU MATTER digital release, along with other Curtis Braly fan "must-haves," via an exclusive Curtis Braly iDitty All Access laminate. The iDitty laminate will feature all 10 tracks, behind-the-scenes photos and video footage, and real-time streaming from Braly's live shows—all available at the swipe of a finger. Each laminate owner/recipient can receive new content and updates via the iDitty FREE, lifetime PUSH notifications included with the download service. Other artists who have introduced their new music via the iDitty All Access Laminate include Carrie Underwood, Gene Simmons (KISS), Newsboys, Chris Young and Tracy Lawrence. The Curtis Braly iDitty All Access laminate will be available at all Curtis Braly personal appearances and via curtisbraly.com.  [Ed Gertler/Digital Delivery Services will spearhead the digital retail marketing campaign.] 

To offer a taste of what listeners can anticipate from the YOU MATTER project, Curtis released the debut single "Love You Down" to country radio. (CDX Vol. 636/PlayMPE-7-6-2016). While on his "Love You Down" radio promotion tour, Braly shot the corresponding music video at Big Bend National Park and various locations in Texas. 

For more on Curtis Braly, please visit www.curtisbraly.com or follow him on Facebook, Twitter and Instagram.  
#  #  # 
ABOUT GO TIME RECORDS 
Go Time Records (GTR) is a Nashville-based, full service music company and label (offering production and artist development services) formed to deliver music and music related products to its clients and artist roster. 

The Go Time Records roster highlights artists from multiple genres including country, rock and pop. Similar to the major labels, GTR offers up-and-coming artists career services and a credible label home with national/international distribution.  From production, duplication, packaging, imaging, distribution and marketing, GTR assists with, and oversees, its clients/artists' independent project releases.   

For more on Go Time Records, visit: www.gtrnashville.com. 
FOR ARTIST INQUIRIES /or/ TO SCHEDULE AN INTERVIEW, CONTACT: 
Music City Media 
K. Atwood | KATwood@musiccitynews.com | 615.770.2994  
*To request an Mp3 of "Love You Down" or a link to YOU MATTER for digital review, please email Music City Media.