NASHVILLE, Tenn. (November 3, 2016) – Fans of Curtis Braly will get to see the entertainer guest host two week-long episodes of the popular television program "Country Fix" beginning November 7, 2016. The program features music videos, country music news and artist interviews.  
   
"I am always honored to be invited to host "Country Fix."  Being in front of the camera is always a good day at the office." said Braly.  
   
Braly's current single "Love You Down," continues to draw national recognition on country radio. The music video for the single will be highlighted during Braly's guest hosted episodes.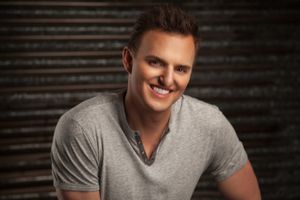 Country music fans in over 100 MILLION households worldwide will have multiple opportunities to catch Braly on Heartland TV, The Family Channel, Angel Two Network / Dish TV, AMG TV, Keep It Country TV / UK, Country TV-New Zealand and online at www.CountryFix.us.  Check your local listings for "Country Fix" air-times.
   
For more information on Curtis Braly, follow him on Facebook, Instagram and Twitter or visit curtisbraly.com.  
Recommended Tweet:   
.@CurtisBraly returns to Guest Host #CountryFix now through Nov. 19
About Curtis Braly   
Early in Curtis' performing career, he opened for acts such as Daryl Singletary and Johnny Rodriguez.  Introducing his influences as Reba, Randy Travis, Kenny Rogers, Garth Brooks and Clay Walker, to name a few, Curtis draws from these performers' abilities to capture an audience—to bring music to life as a must-hear storyteller.  He "delivers" with believable emotion and a charging energy to make a story unfold right before your ears.  He travels the stage in each high-energy performance to offer something different than the night before.  His 2016 summer show schedule included a number of performances on tour with Tanya Tucker promoting his new album "YOU MATTER", produced by Kent Wells.  While Curtis is devoted to his country music roots, his music caters to the new generation of contemporary country music fans and listeners who have a hankering for pop, jazz, and rock.
# # #