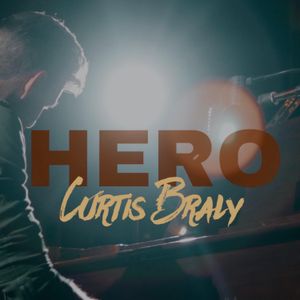 Make sure to check out CMT.com for the video release of "Hero" by Curtis Braly on Friday, Sept. 18. 
Like many boys growing up in small Southern towns who didn't quite "fit in", Braly from a young age, struggled with bullying at school. 
The bullying eventually became so intense that by the time the songwriter/entertainer was a junior in high school, he had made the decision to end his life, thinking it would be better for everyone if he were no longer here. He recalls that his only real reprieve from the abuse was during his teachers aid period in the audio visual department; and he decided it would be during that period he would pen his final goodbyes. However, there was one small thing that changed everything that day: 
A song. 
For the first time in his career, Braly shares some of the most intimate details of that day and the song that literally saved his life: 
"Listening to the lyrics of that song, I realized that I didn't need anybody or anyone to accept me, to tell me who I could or could not be," said Braly. "I didn't need anyone else to save me, to make me happy. That I had the power to do all of that myself. So that song literally saved my life." 
Along with his team and a desire to raise awareness during Sucicide Prevention & Awareness Month, Braly has launched a social media campaign; promoting his long-form music video that shares both story and song. The campaign has been remarkably successful garnering over 130,000 views across all surfaces since its release on Sept. 4- a feat, considering the video is over 8 minutes in length. In a world where short-form tik tok's reign supreme, it's obvious Braly is connecting. 
You can connect with him too starting today, premiering on CMT.com. 
While Curtis is devoted to his country music roots, his music caters to the new generation of contemporary country music fans and listeners who have a hankering for pop, jazz, and rock. 
"I have wanted to record that song for so long because I thought if it impacted me that way, that I could utilize that same song to impact others in the same way." 
You can keep up with this future super star on his Twitter, YouTube, Instagram @curtisbraly as well as on Facebook at @curtisbralyfans.
The new song is available anywhere you consume music (i.e. Spotify, Apple Music, Google Play, etc..)

Additional Links:
Story on YouTube: https://youtu.be/Cx91JHFM0To
Facebook Post of Story & Video: https://www.facebook.com/curtisbralyfans/videos/675095236694275​​​​​​​
"Hero" produced by Kent Wells