On the tails of his latest single release, "My Heartache Not Yours"; country recording artist Curtis Braly lands role in Horror film.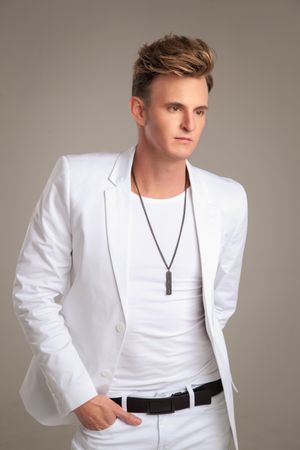 It's no secret that Braly knows his way around the stage; having toured with some of the biggest stars in country music. Now, he is on a mission to expand his career to the big screen in the upcoming horror feature, "Slapface." Not only has Curtis been added to the star-studded cast, he is also writing music for the film that is set to kick off filming this fall. 
Directed by Jeremiah Kipp, Braly will appear in the film alongside stars like William Sadler (The Mist, When They See Us, Shawshank Redemption), August Maturo (The Nun, Girl Meets World), twins Bianca D'Ambrosio and Chiara D'Ambrosio (The Young and the Restless, The Savages), Mirabelle Lee (Madam Secretary, Blood Ties) and Mike C. Manning (Teen Wolf, Cloud 9). Joe Benedetto's Trajectory Films is producing the film with Manning's Chhibber Mann Productions. 
"Slapface follows Lucas (Maturo) who lives with his older brother (Manning) after the loss of their parents. Lucas befriends a Monster in the nearby woods, and trouble ensues. The town Sheriff (Sadler) tries to thwart the wrongdoings of Lucas and the Monster before it is too late." 
About Curtis Braly: 
Music powerhouse and Texas native Curtis Braly is a jack of all trades. With experience in theatre, radio, law enforcement, emergency medical services and aviation, he found his true calling as an entertainer & true showman. 
Performing and touring with fellow artists such as Dolly Parton, Tanya Tucker, Ty Herndon, Daryl Singletary and Kimberly Caldwell, Curtis draws from these performers' abilities to capture an audience—to bring music to life as a must-hear storyteller. With his explosive stage presence, Braly "delivers" an intimate connection with believable emotion and a charging energy allowing his story to unfold right before your ears.  While Curtis is devoted to his music career, it is also his mission to give back. Braly founded and launched his 501(c)3 non-profit, The R.U.B.Y. Foundation, in 2018 to help teens combat stress, depression & lack of self-esteem caused by bullying. He also takes great pride in volunteering his piloting skills and personal aircraft to organizations like Pilots N Paws and Angel Flight. Curtis also volunteers, each year, to Nashville's Christmas 4 Kids. Curtis' music and sincere philanthropy caters to the seasoned music lover as well as the new generation of fans and listeners who have a hankering for country, pop, jazz, and rock influences.
Listen to the new single HERE.
Follow on Facebook
Follow on Instagram
• • • •